External Mentorship at Kids Physio Group
At Kids Physio Group, we aim to connect with and support inspired pediatric physiotherapists and increase access to high quality physio care for all kids. To help us achieve our vision, we are excited to offer external mentorship through a limited pilot program.
Some physiotherapists do not live within a zone of one of our clinics (yet!) and are reaching out to us for support. Through our external mentorship program, we can offer our expertise and help elevate pediatric care beyond the reach of our physical clinics.
Mentorship will be virtual and 1:1, where you bring your questions or cases and your mentor provides you with real-time feedback, advice, and resources. The cost of this will be $150.00 / mentorship hour, with flexible arrangements available (whatever cadence and length of relationship work best for you and your needs).
Currently, we have two Senior Physiotherapists on our team offering external mentorship through our pilot program, with limited availability.
Kiersten McMaster, BKin, MPT
Kiersten has always been passionate about helping others and she knew instantly that physiotherapy was the perfect career path for her. Originally from Vancouver, Kiersten knew that after traveling for her studies, that she would eventually settle back in the Lower Mainland. She first moved to Toronto to complete a double major in Kinesiology and Dance at York University. She then obtained her Masters in Physiotherapy at the University of Queensland, Australia.
After working with adults with neurological conditions for the first 3 years of her career, she made the switch to join the team at Kids Physio Group and has never looked back! She loves helping children reach their full potential and help them reach their goals. She has experience working with children with autism, cerebral palsy, developmental delay as well as sport-specific injuries.
In addition to her clinical work, Kiersten is also the Clinical Manager of the North Vancouver location, where she has the opportunity to mentor current staff and studenta pursuing physiotherapy at the University of British Columbia. She is currently obtaining her Masters in Business Administration at the University of Victoria to help advocate for paediatric therapy and conditions at a national level.
Areas of clinical interest
Kiersten has previous experience with neurodiverse individuals and has helped them achieve their specific goals. She uses a client-centered approach to fundamentally understand each client and to ensure that their goals are specific, measurable, and individualized.
Over the years she has had the pleasure of working with children with cerebral palsy, autism spectrum disorder, Down's syndrome, Rett's syndrome. and other rare genetic conditions. In the last 2 years she has seen a large number of children with anxiety which has impacted their physical literacy and the ability to participate with their peers. She also has an interest in working with children with behavioural challenges and has accumulated a number of tools to help with compliance and ultimately making physio a fun experience for children and families.
Education

Kids Physio Group – Senior Mastermind

Hammersmith Infant Neurological Exam Training
Cuevas Medek Exercises – Level 1
Toe Walking: Red Flags for Referral and Intervention Strategies
Toe Walking: The Role of Vision and Reflexes
Toe Walking: Utilizing the ACT and Footwear Modifications to Improve Outcomes
Decoding Autism
Dynamic Core for Kids
Musculoskeletal Assessment and Management of the Child with Cerebral Palsy
NDT/Bobath Certificate Course in the Management of Adults with Stroke and Brain Injury
 Available hours for mentorship (PST)
Tuesday evenings from 6:00pm to 8:00pm
Thursday mornings from 10:00am to 12:00pm
Fridays by appointment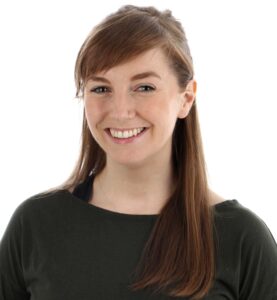 Maria Toner, BScPT (Hons)
Maria joined the Kids Physio team in 2018 when she moved to Vancouver. She started her career in private practice, working in adult ortho clinics in the UK and enjoyed the acute nature of injuries that she saw, the flexible schedule, and motivation of patients to complete rehab and investment in their health. Maria had always wanted to work in Paediatrics but wasn't able to find her dream job at home. She found Kids Physio by accident while rock climbing at the gym next door.
Over the last 4-5 years, Maria has absorbed every learning opportunity she can in order to best provide care for the kiddos on my caseload. In addition to being one of the Senior Physiotherapists at Kids Physio Group, she is also the Clinical Manager at the Fraser Street location in Vancouver.
Maria is passionate about providing the best possible care to both the families and physios she supports. You can expect her to have a good sense of humour with a generous helping of sarcasm and wit. She prides herself on showing up honestly and to provide mentorship in a fun way. She loves helping people, hates coriander, and has a loud laugh.
Areas of clinical interest
While historically a bit of a jack of all trades, in the last 2 years, Maria has streamlined more towards the conditions she has more special interest in. At the very core of her style of treatment is connection, rapport, and relationship building with the family.
Aligning and adapting communication styles to holistically meet the families needs are always at the forefront of Maria's mind. Her clinical interests are pediatric pelvic health; children with sensory processing disorders, ADHD, DCD, and ASD; concussion rehab and children with gross motor delay. Through her experience, Maria has found that the most challenging cases are the most rewarding and have led her to take courses and regular webinars to better support the children on her caseload.
Education 

Kids Physio Group – Senior Mastermind
Sensory Processing Course from STAR Institute – Level 1 
Paediatric Incontinence and Pelvic Floor Dysfunction
Anatomy Trains in Structure and Function Virtual
Total Motion Release (Tots and Teens) Level 1
Neurokinetic Therapy Level 1
CCMI Concussion Training Course for Rehab Professionals
Dynamic Core 4 Kids
Neurodevelopmental Therapy: Contemporary treatment of the young child and baby
NAGS, SNAGS and MWM's Mulligan Concept
Fit backs and bumps, treating during pregnancy

Mentorship and inservices at PhysioWorld and Total Physiotherapy
Available hours for mentorship (PST)
Tuesdays from 8:00am to 11:30am
Wednesdays from 8:00am to 11:30am
Fridays from 8:00am to 2:00pm
If you're interested in this mentorship program, please fill out this form and a member of our team will connect you with an appropriate mentor to discuss and confirm logistics before beginning.
If you have any questions, please email [email protected].