Date
May 18 2022
Expired!
In-Person Move Baby Move (0-12m)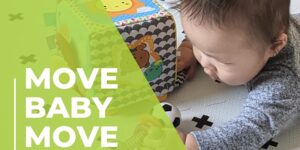 Join us at Surrey Kids Physio for a FREE, IN-PERSON education session!
Our team's amazing Pediatric Physiotherapists (Physio Kasia & Physio Evelyn) will be providing information about Motor Milestones Development in children within the first 12 months of a baby's life! You will be learning about milestones to look for in your baby at each month of the first year, and some practical and FUN ideas on how to promote essential motor skills and encourage your baby to move! We will also provide some important information about potential red flags in motor development and when to seek support and help. Most importantly, we will be available to answer any questions you have about your baby's developmental milestones! 👶
When: Wednesday, May 18th at 9:30 AM
Where: Surrey Kids Physio
302 – 14351 – 104 Avenue
Surrey, BC | V3T 1Y1
Click HERE to register.
*Please note: space is limited to 8 participants (caregiver & baby) to ensure physical distancing and optimal engagement. Registration is required to attend this event. Please note that masks are mandatory in our clinic space. We appreciate your efforts in ensuring everyone's safety.